What are Rodster® owners saying about the Rodster® Street Rod?

A few words with BOB PHELPS

Fort Meyers, Florida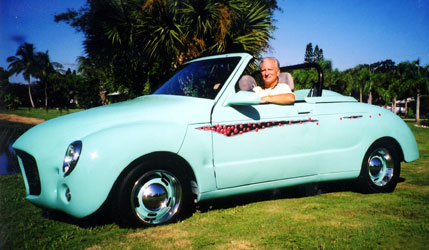 Bob Phelps was half-way through building his Rodster when we recorded his first impressions here. He followed up later, (see below) when he completed his Rodster.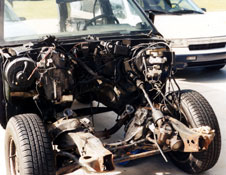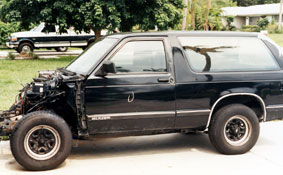 What's your car history? Were you ever into building them?

When I was a child, a kid, with my father. When I saw the Rodster in one of the Kit Cars, it intrigued me because it was unique.

What kind of cars did you build with your father?

We had a '53 Chevy, a V8 was put in, that was my first car, a '56 Chevy Vette, I paid $150 for and it had no floor panels, no rockers, the fenders were all gone, rusted out. We ended up rebuilding that, put a rebuilt short block engine in it and a stick transmission and I got it painted and it was cool car. I had it in high school.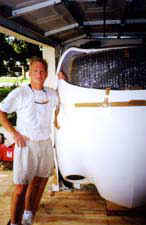 Bob Phelps inspects his Rodster® shipment on arrival.
Do you work on your own car now?

When I get the chance. Yes. Between that and boats and projects, yes. Currently, I have a '69 El Camino; I'm doing work on that and the Rodster, working on the boat.

What kind of boat?

We have a 25 foot Well Craft.

Will the El Camino be towing it?

No, the El Camino actually is my driver, the car I'm going to be driving all the time. I live in Florida, you need air conditioning. I still drive it and use it as a truck. It's definitely a 2 and with some work, it could be a 1, but I'm not going to show it at this point. Not a day goes by that when I pull up at a stop sign, somebody doesn't give me a thumbs up or take a look at the vehicle. That's what I expect to happen even more with the Rodster.

Have you seen any driving around?

I'm the first one in Florida.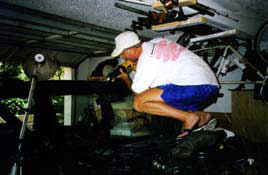 Cutting away the Blazer roof is almost therapeutic.
How far along is your car?

I'm about half-way done with it. I'm at the point where I need to buy the tires and wheels so I can go on to the back half and move forward.

How easy is it to assemble?

Scale of 1 to 10, probably a 4. Three to four. It's not that difficult at all. If you have a little common sense and follow the pictures, and the instructions are so simple. I've only had to call Henry a few times and say to him, "What did you mean by this?" "Tell me how to do this." And he explained it to me and I went, "Oh yeah, that makes sense."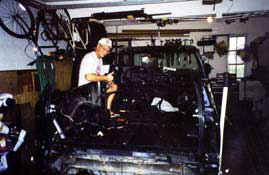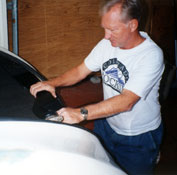 With the roof off, the donor vehicle is almost ready.
How many hours do you have in it so far?

I sort of keep track, and then I quit, so I really don't know. But mine is unique because I had to pull the engine. I bought a Blazer that was wrecked, and I've had to pull the engine and transmission. That took me a lot more time….

Did you have to repair your Blazer?

The engine was frozen up. So I had to pull it out. I bought another wrecked Blazer.

How was the packaging of the kit?

Came in one package. It was very well packaged. Very securely packaged.

How about the hand laid fiberglass?

It's an excellent job of fiberglass.

Did you buy the manual before you bought the kit so you could see if it was something you wanted to get into?

Yeah. There's a lot of less than honorable people in this business. There are a lot of horror stories out there about buying kit cars and then they never get the kit.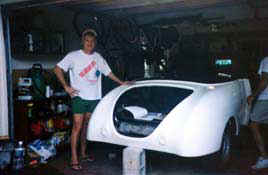 Fitting the rear end is a snap.
You mean you pay your money and they never send it?

Yeah. Myself being in Florida and Henry in California, I couldn't go to the factory and pick it up, for economic reasons. So I bought the manual first. Of course, he refunded the money, so it's no big deal. But I wanted to look at it and see how complicated it was. A lot of it I didn't understand at the beginning, but once I got into it, I did.

How much do you have invested so far?

I don't know. Whatever I paid for the kit, and the Blazer was $800… I probably got another $200 on top of that. I've got all my receipts, if I had it put together, I'd give you a definite number. But I haven't got the tires and wheels.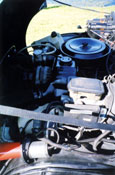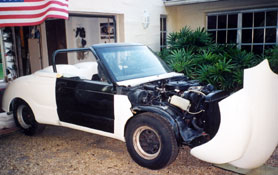 Are you planning to do anything custom?

I talked about putting in a nitrous bottle. Giving it another 100, 125 horsepower. Makes it a lot faster. But besides that, no, it's going to be so unique that I don't see how you need to make it any more customized than it is.

Two-wheel drive or four-wheel drive?

Two-wheel.

Did you get the kit on time?

I would have liked it sooner. It was a reasonable time.

Have you ever built other kits?

No.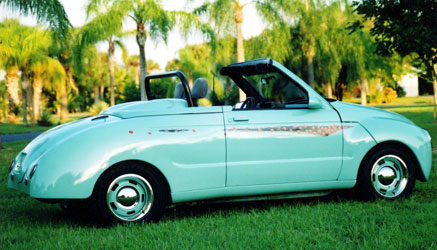 Your business is selling insurance to car dealers?

Used car dealers. For their buildings, property, clients, tools…

So with your contacts did that help you make a deal on your Blazer?

No, as a matter of fact it didn't. I bought it off the online service on the Internet.

I'll call when you get it completed and find out the reactions to the car.

Women will be falling all over it.

They're not already?

Not in this condition.

Good. They might hurt themselves.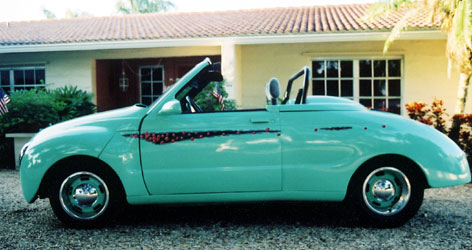 And later...
Henry;
I was right about women falling all over my Rodster but my wife continues to beat them back... oh well.
I stopped working on my Rodster due to me taking care of a family member who was very sick. The Rodster sat in the garage looking back at me for a year or so (as one gets older time seems to fly by). But I was encouraged by my wife to get my butt back in the garage and complete my rod. So back I went, night after night, weekend after weekend, (thinking all the time, Henry said it ONLY took a couple days to do one of these projects! Just kidding Henry...
So Henry will tell you I was on the phone with him a few times discussing his use of the English language (his instructions and my boneheaded interpretation). But night after night the rod was coming together. I was afraid, since the car sat so long, it would not run. Well it did but with some problems. My ace mechanic and I finally figured out that the fuel pump was not producing enough fuel for the engine. That fixed it.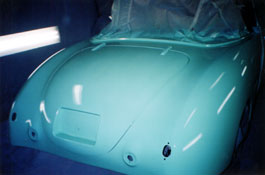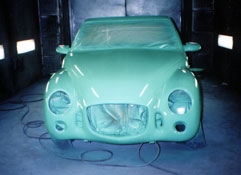 My only friend just happens to own a Maaco Auto Body Painting franchise and gave me a free paint job for my birthday. So he and I one night started painting my Rodster, it started out as a "ugly duckling" and turned into a "Princess." I stole the color (1991 Porsche) from a hotrod mag....I call it a creamy mint color . . . everybody loves the color.
After reinstalling all or most of the stuff Henry said to take off (hey, again just kidding), I had to drive the Rodster about 1 1/2 hours north for the Dept. of Motor Vehicles to inspect it (due to being a re-buildable vehicle after a theft recovery). Of course, I had to do this on a very rainy Florida day. The hardtop came through wonderfully, the DMV passed my vehicle (a 2002 built from parts), and now I have a brand new Rodster.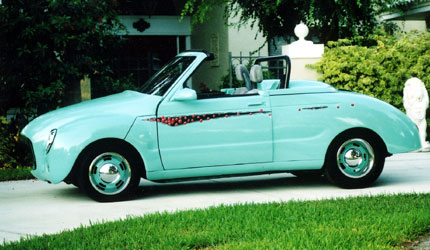 I know you people in the upper 48 states need a hardtop, but mine is now in storage. Will probably never be on the Rod again. Henry and I had numerous discussions about a ragtop. I didn't want to punch any more holes in the Rod so I came up with a design that most of you can do too. I laid the hardtop on my garage floor, drew the outline of the top on the floor, and took a pipe bender and bent (with the Macco-owner's help) electrical conduit to conform to the shape. After a pipe or two we finally got the form correct.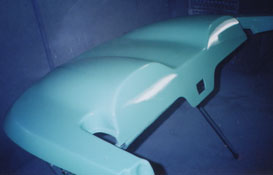 I then drilled two holes where the hardtop attaches behind the door, and used the same bolt to hold the pipe to the car. I used some plastic tubing (clear) to keep the pipe off the Rod. I then cut some more pipe and flatted the ends, so I had two support pieces that went from the conduit frame to under the roll bar. I then drilled and tapped two holes in the bottom of the sport bar so the supports could attach, and drilled and pop-riveted the supports to the frame. So that I could haul the frame with me, I cut it in half and then cut a bolt that fits in one-end attaches to the other end with some thumbscrews.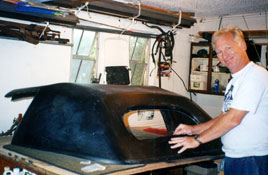 I had gone over to my local boat-canvas shop and got a piece of rubber (with a slot built into it) and formed it to the top of the windshield (use a heat gun and do it slowly). I attached this piece with funny bolts that have a flat top so they do not show. The ends were pop riveted into place. I had the rubber piece painted before the final attachment.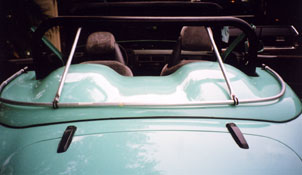 I then went back to the canvas shop, they developed a pattern and built the top out of the same material one would use to enclose the bed of a pickup. Once the top was sewed together I went back and we attached the top. You slide the front of the top into the rubber holder. Then they pulled the top tight. We screwed snaps into the conduit, (NO HOLES) and punched snaps into the material.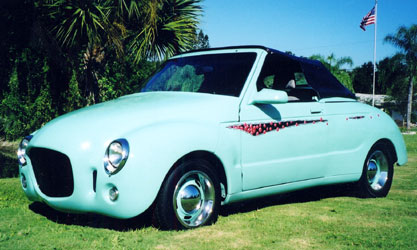 This might not be the best top in the world, but it keeps me dry, looks good and lets us cruise and not worry about rain. I carry this "emergency" top in the back with me all the time.
We went cruising this past Saturday, and everybody wants to know what it is, I just tell them to call Henry...
Happy Cruising to all,
Bob Phelps