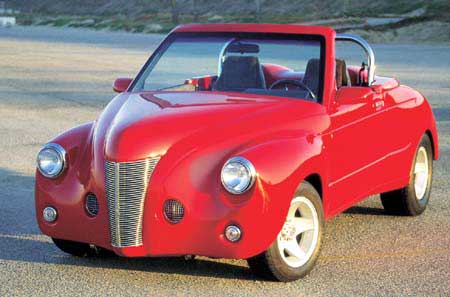 The award-winning Rodster Street Rod conversion kits use a modern production vehicle (1st-Gen. Chevy S-10) as the starting point. They're fun to build, easy to keep running, and all-around cool to own. Available as an Open Roadster, Sedan Delivery, or Pickup Truck. Isn't it time you built yourself one?

Our innovative concept of REVERSING the typical street rod build-up has set a trend (with our kits you reverse the process, and avoid the pain of fitting modern running gear and accessories into a 60-year-old body). Yep, it's a whole lot easier to put a retro-rod body conversion on a readily-available vehicle ('82 –'94 Chevy S-10s) that already has all the goodies.

A street rod build-up using one of our kits (superbly engineered and manufactured to exact tolerances using the highest-quality materials) avoids the big headaches and big expense of what you'd otherwise expect with a custom rod build-up.

It's cool that Rodster Street Rod kits have been recognized on numerous TV shows and in many national publications as a true breakthrough for the DIY builder. We're also very proud that our company has been recognized for its good business practices.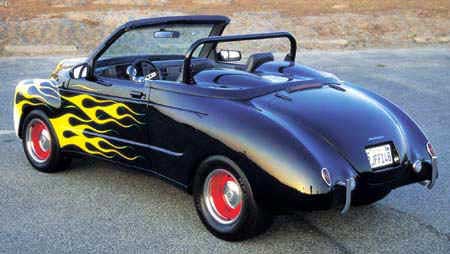 There's Chevy S-10 Blazer hiding in this photo.
So what do our owners say?

We hear from our owners that building a Rodster Street Rod is a relatively short and quite satisfying experience. And they tell us they've had fun adding their own custom touches, making their rod uniquely their own.

They report that they absolutely love the Rodster Street Rod's crowd-pleasing personality. On top of that, they constantly admonish us to be sure to tell everyone how the reliable/up-to-date underpinnings and more-reasonable total investment make a Rodster Street Rod that much more enjoyable.

Check out the Sedan Delivery Street Rod!
Our owners tell us that they typically have only $9K-$15K in their completed street rods (compare that to the $35K-$50K you'd have in your average Cobra replica or even a basic '32 Hiboy Roadster replica).

Simply put, a Rodster Street Rod works out to be 3X the fun at only 1/3 the cost. I guess that's why they were rated a "Quick & Easy Low-Cost Kit" by the leading magazine in our industry.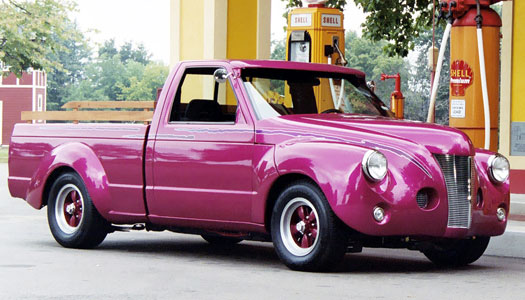 And check out the cool Rodster Pickup Truck!

So, there's gotta be some sweat, tears, and busted knuckles (and money), right?

Because you start with an operational vehicle (donor costs are usually $2,000 or less) the messy and dirty headaches of a typical street rod build-up are avoided. For instance, due to the state-of-the-art design of our kits, we've had customers put a SEDAN DELIVERY model together in less than 60 hours.

Beyond fitting the body, the only major mechanical operations are lowering the ride-height 3 inches, installing a new radiator, and relocating the battery. Plus, assembling one of our kits does not require any welding, special jigs, or unique fabrication talents. All around, our trend-setting kits have received glowing reports from our customers because Rodster Street Rods have earned a reputation for reducing the headaches and maximizing the fun.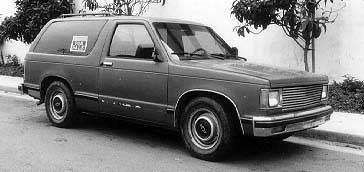 A worthy donor can be had for less than $2000.
Our BASIC Rodster Street Rod kits, which start at only $3,295, include the proprietary ultra-high-quality fiberglass body pieces.

Our COMPLETE kits, which start at only $4,195, have everything you need to convert a first-generation Chevy S-10 except new wheels/tires, misc. fasteners/glues, and a paint job.

If you do the math, you'll see that for sheer bang for the buck, Rodster Street Rods are hard to beat. Think about it, a Rodster Street Rod total build-up can easily cost less than just the rolling-chassis for a '32 Ford.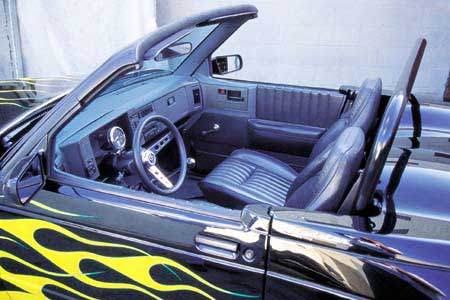 Factory OEM (GM) interior appointments are amazing for a street rod.
So isn't it time to rock n' roll?

The best way to get started is by perusing the whole story on this website –– the site has tons of information, more than we could ever stuff into an info pkg. But, if you'd like to receive some hard-copy info, please e-mail us your snail-mail address (note: because we get barraged with free info request we've had to go to a simple flyer and price list).

If you're ready to get started in making that street rod dream a reality, give us a call or shoot us an e-mail requesting an itemized quote (with shipping).

Another way to check it out is with our comprehensive step-by-step Assembly Manual. For a limited time it's only $39 w/S&H (completely refundable with purchase of a kit – see quick-downloadable ".PDF" order form in gray column at left).

So next time you see a used Chevy S-10, remember, it's just begging to have a new life as a Rodster Street Rod.

Thanks for the interest.

All prices subject to change without notice and are F.O.B. El Segundo, CA and/or Sparks, NV.