"Although the Rodster is one of the least expensive projects on the kit market, Caroselli's latest creation (Sedan Delivery) drops the price of admission even further."

KIT CAR, Nov. 2000

"This proved to be an excellent kit that went together with a minimum of difficulty."

KIT CAR, Jan. 2000

Hot Rod Magazine's Power Tour '97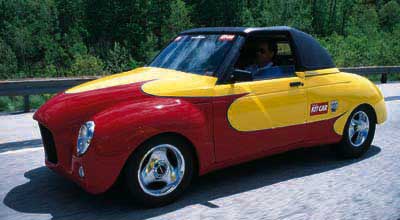 Cross-country cruisin'...
A special Rodster® was built for two featured articles in Petersen's Kit Car magazine. One article shows the buildup process, from its beginnings as a Blazer S-10, through the conversion process into a completed Rodster®. The second article follows the completed Rodster® through the twenty-five hundred mile Hot Rod magazine Power Tour '97, from Los Angeles to Mt. Clemens, Michigan.

From the Rodster® section of the Petersen kickoff party in Los Angeles, to the destination of Mt. Clemens, Michigan, this was a demanding trek for most hot rods.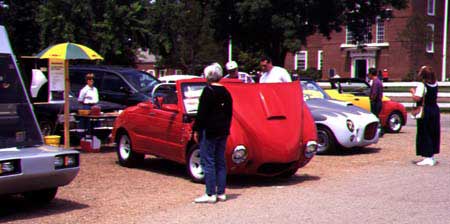 Three cars debuted at Knott's/AHA Kit Car Show.
The Power Tour was from May 8 through May 18, traveling 2500 miles, with occasional stops for parties and showing off the great cars at:

Los Angeles, California
Las Vegas, Nevada
Grand Junction, Colorado
Denver, Colorado
Goodland, Kansas
Kansas City, Kansas
St. Louis, Missouri
Springfield, Illinois
Lansing, Illinois
Mt. Clemens, Michigan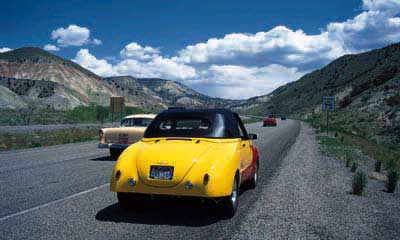 The 75 mph speed limit was no problem.
Not surprisingly, Henry Caroselli's Rodster® was one of only 72 finishers of the event, out of over 450 vehicles starting in L.A. It made the trip without using so much as a single quart of oil.

Wherever it goes, the Rodster® draws a crowd. Read the whole story in Petersen's Kit Car Magazine.

Note the '96 Blazer 60/40 seat... EZ cruisin' for low $$$.

A special Rodster® "Thanks" to:

AUTO CUSTOM CARPETS (Full carpet set & floormats)
BF GOODRICH (Radial T/A tires)
JET PERFORMANCE PRODUCTS (Stage II chip)
SUPERIOR INDUSTRIES (Tri-bar wheels)
LECARRA STEERING WHEELS (New Mark 4 double slot)
CHISCHELL AUTOMOTIVE PRODUCTS (New Predator "Black Panther" battery)
FLOMASTER New Delta-flo muffler)
SUMMIT RACING EQUIPMENT (Electric radiator fan, fuel pressure gauge, billet rearview mirror, & ignition wires)
MOON (Shift knob, tach, billet pedals, specialty vehicle owners manual)
SHARPE (SGF-HVLP spray gun)
AKZO-NOBEL (Sikkens paint)

Thanks again.

Cross-country cruisin' made EZ and fun.